Nearly 13 years have passed since the hard rock band Airbourne broke onto Warrnambool's (Australia) music scene, where they became a regular act at the local Criterion Hotel.
Since then, the quartet have released an EP, and three studio albums (the fourth one is out on Friday), toured with some of the biggest rock, and metal legends like Iron Maiden or Motörhead, and have earned a loyal fanbase worldwide as well as critics' recognition.
The band is currently promoting its last record, "Breakin' Outta Hell", so we have taken the opportunity to interview rhythm guitarist, David "Roadsy" Roads. We talked about their new material, their current tour, and their experience working with the late Lemmy Kilmister.
Text by Thaïs Parvez & photos by John McMurtrie
HB – Let's talk about the new album, "Breakin' Outta Hell". We had the chance to listen to it, and it seems that it has a lot of energy, and attitude. It really is old school' rock'n'roll. What was the main inspiration behind it?
We had a great collection of demos that we were working on during pre-production for the album with the intention of just going in there, and recording a solid rock album. The idea of getting Bob Marlette back on board with Mike Fraser, engineering and mixing really enabled us the make a big sounding album.
HB – In the new record you worked once again with producer Bob Marlette, and engineer/mixer Mike Fraser, but this one is going to be released via SpineFarm Records. How was the writing process compared to the previous albums? How was your experience working with them onr more time, and with SpineFarm Records?
Recording "Breakin Outta Hell" was a fun, and relaxed process. Bob Marlette, and Mike Fraser were great to work with, and with all their experience its just flowed well working together, a real dream team. Spinefarm were also very supportive, and excited throughout the recording.
HB – We've heard that It's All For Rock N' Roll was inspired by Lemmy. He collaborated with you in your 1st album. Tell us a little bit more about it. How was to write that particular song?
Lemmy had helped us out a lot in the early days of Airbourne, appearing in "Running Wild", and also having us support Mötorhead on tour a few times, he meant a lot to the band, and was someone to look up to. So the idea for It's All For Rock N'Roll came about in pre-production when the song was being written, and didn't have a title yet.
"Lemmy had helped us out a lot in the early days of Airbourne, appearing in "Running Wild", and also having us support Motörhead on tour a few times. He meant a lot to the band, and was someone to look up to."
HB – Can you describe "Breakin' Outta Hell" in one sentence? What would be the album's overall message?
Breaking out of any sort of shitty time in your life, and having a good time. The album's overall vibe I guess is about good times, and Rock n' Roll.
HB – Your reputation as a live act is already legendary. Talking about your new tour, what can we expect from your live shows?
The live show is always an entertaining high energy loud driven package. The show will change with the edition of new songs added to the set, giving us new ideas to perform different antics on stage.
HB – What is your wildest experience while touring so far?
Sorry! But what happens on tour, stays on tour! (laughs).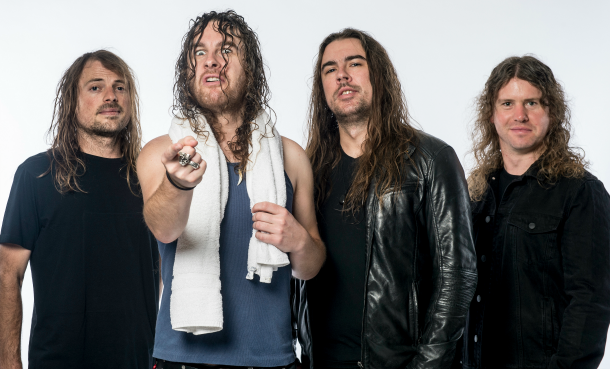 HB – You've shared the stage with The Rolling Stones, Iron Maiden, and Mötley Crue, and toured a lot with Mötorhead. How was your experience? What do you prefer: festivals or small venues?
We have been very honoured to support such bands over the years, and they all have been great experiences. The bands were all very welcoming, and supportive of Airbourne.
For me playing festivals, and small venues are quite different from each other, but have there own exciting energy about them. The smaller venues are a lot more up close, and intimate, which a lot of our fans like more. Playing the festivals to massive audiences with bigger stages is also great because then people definitely get the full show experience, and we really have to work the stage a lot more.
HB – We've heard that your influences include AC/DC, Def Leppard, Judas Priest, Thin Lizzy, The Angels, Motörhead, Status Quo, and Rose Tattoo. Who is your biggest reference as a guitarist?
A lot of different guitarists have influenced me growing up, a lot of blues artists as well, but for rhythm guitar I would have to say Malcolm Young.
""Breakin' Outta Hell" is about breaking out of any sort of shitty time in your life, and having a good time."
HB – You started playing at an early age, you were 11-12 years old. What do you recall about your time then? Why do you decided to get into the music industry?
I always loved music, and wanted to play instruments as far back as when I was in primary school. I learned a little of piano when I was very young, but then soon switched to drums, and bass guitar, then guitar.
My main goal back then was to play in a band, but growing up in the country, and going to school in a small town really made that hard. It wasn't until I was 18, and could drive down to the next biggest town to work in a pub, where
I met Joel, and we started jamming after work, and I eventually started rehearsing with him, and his brother on a Saturday, and my passion grew from there, eventually leading into a career.
HB – Besides, you current record, what is your favourite album at the moment? What song you wish you have written?
Song wise I'm not real sure actually. Lately, I've been listening to a lot of blues music, and I've been listening to a lot of Joe Bonamassa's albums.
HB – How do you see yourself, as a band, in 5 years time?
Airbourne has been growing more, and more every album cycle, so I would like to see that continue, and hopefully have the chance to play Rock N' Roll to some parts of the world we haven't been to yet.
Airbourne's new album, "Breakin' Outta Hell", is out now. Grab your copy here.