About one year ago, the post-hardcore quartet

Enter Shikari

released their fourth (and most ambitious to date) studio album, "The Mindsweep".
The Hertfordshire rockers are currently out on the road with the electronic-based group The Qemists, and the dubstep and electronic rock band Modestep to promote their new LP across Europe.
The band recently landed in Spain to play two shows in Pamplona and Barcelona, and we took the opportunity to interview lead vocalist, Rou Reynolds, and guitarist, Rory Clewlow, just before their show at Sala Apolo (BCN).
We talked about their last studio record, their current headline tour, about cosmology, and about what their lives would look like if they weren't in Enter Shikari.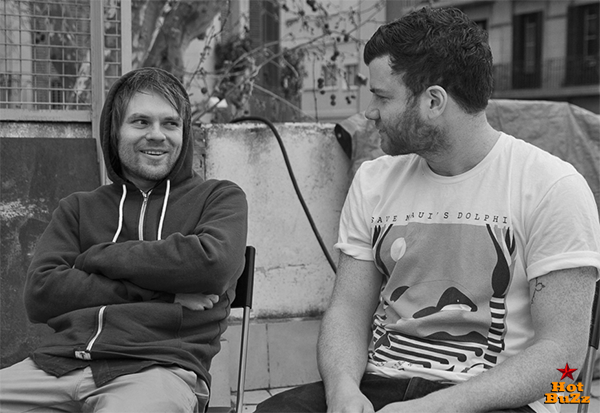 HB: Let's start talking about your last studio album, "The Mindsweep", what was the main inspiration behind it?
Rory: There wasn't really one specific point of inspiration, it's an accumulated knowledge, and experience of 10 years as a band. It's very difficult for us to pinpoint exactly where our inspiration comes from because we love so many different things.
HB: How was the writing process? Was it different from previous albums?
Rory: No, it was pretty similar. [Usually] Rou makes demos, and we write on the computer. It's constantly evolving. We pass around the sessions to each other, and make little changes. Rou is the main songwriter, and he oversees all. Then we all take the session on the laptop, and add our own bits.
That's the way it's been for all of our albums, except the first one ["Take to the Skies" (2007)], we didn't have the technology to do that [then].
HB: What about the lyrics? Your songs talk about current affairs, science, politics, environmental issues… What message do you want your fans to take when they listen to your music?
Rou: I think the biggest message that we carried through every album is the importance of unity. We live in a world where everywhere you turn there are all sorts of things trying either persuade or trying to initiate division between everyone. There are not many things that promulgate unity, and community. As religion is being forgotten into history, there is nothing really taking this place, and music is really the only thing that still indiscriminately brings people together to celebrate the best things about being alive. It's an honour to be able to play music, and initiate that sense of community that's been lost.
"The biggest message that we carried through every album is the importance of unity."
HB: Let's talk about the current tour. What can we expect from your live shows? We've heard that you are using technology that you've never used before.
Rory: On the UK leg of this tour, we had a lot of bigger room, so we could afford to bring in more production, we had screens, surround sound, and lots of lighting, but unfortunately [in here] we could only bring in a limited amount of production. Hopefully, next time we come back, will be able to bring the surround sound, the screens, and stuff.
HB: In the past, you played a cover of Muse's Supermassive Blackhole, and we've heard that for you Rou, they were one of your influences when growing up. Who is your main musical influence nowadays?
Rou: With the last album I was listening to a lot of classical music: Tchaikovsky, Stravinsky, and stuff like that. Also a lot of hip hop, old school hardcore punk, electronica, house, drum'n'bass.
Rory: I generally listen to more drum'n'bass than anything else, and every now and then I get obsessed with a certain band, but just random things.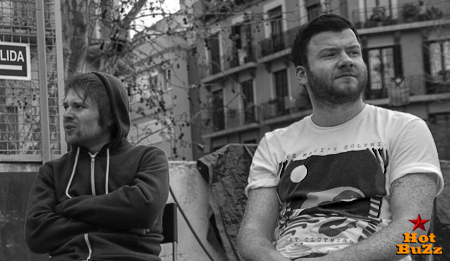 HB: Besides Enter Shikari, you have some side projects. Are we going to see any new music coming soon?
Rou: At the end of the summer, it might be time to do other stuff; Shikari Sound System is something we want to do more with.
HB: The band Baby Godzilla released some music under your own label, Ambush Reality. Are you thinking about releasing music from other bands?
Rou: It'd be lovely, but that would mean employing a lot more people, which is fine, but [at the moment] we are focusing on other stuff.
HB: Enter Shikari focuses more on synths and electronics, but talking about guitar parts, Rory, how would you define your style as a guitarist?
Rory: Because Enter Shikari is heavily electronic based, I kind of see the electronics as the lead instrument, and the guitar as a rhythm instrument. It's mostly quite simple parts, add[ing] texture to the overall sound.
Rou: I think that's a bit humble! (both laugh)
Rory: Yeah! I reckon [my style] it's versatile. Stuff with effects, tapping, a bit of everything.
HB: When you are not touring or recording, what do you love to do?
Rou: Reading. At the moment I am reading "The Consolation of Philosophy".
I just had a few weeks that I [also] became obsessed with cosmology, the massive advances in cosmology during the 21st century. The advances in technology that they were able to inform us about how the universe is expanding, and accelerating its expansion. Actually, we are really lucky to be living at this point of the universe's timeline, age.
Rory: I have two young children, so when I am off tour, I am literally just changing nappies; spending time with them.
"We live in a world where everywhere you turn there are all sorts of things trying to initiate division between everyone. It's an honour to be able to play music, and initiate that sense of community that's been lost."
HB: If you weren't in Enter Shikari, what would you be doing as a career?
Rory: My last "real" job was a lab technician at an optician, making glasses, so I might still doing that. I like to think that I would be doing something musically.
Rou: Interesting question. If you frame it as: "What do you think you'll be doing?" [Being] an astronaut, a marine biologist, a pirate (laughs!), but what would I probably be doing? Well, something a lot less glamorous, hopefully something with the music.
HB: Being in Enter Shikari may be seen as a glamorous thing…
(Both laugh)
Rou: Wow!
Rory: I think glamorous is definitely not the word.
Rou: To the outsider it may be thought of as glamorous, but that is not how I meant it, in reality…
HB: We know, just joking. Here's our last question: Where do you see Enter Shikari in say 5 years time?
Rory: The arena tour that we just had in the UK for the first time certainly has given me ambition, just because of the amount of creative doors opened up, we can do so much more in bigger venues, whether it's screens, lightning, putting surround sound, all these things. A lot of bands from our world when they get to that stage they continue doing the same shows, and we wouldn't do that. We want to try everything. Hopefully the next five years will see us playing in bigger venues.
You can grab your copy of  "The Mindsweep" or the remixed album, "The Mindsweep: Hospitalised" here.