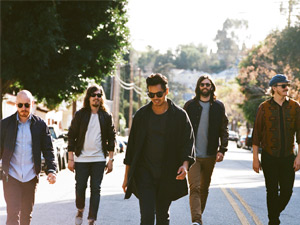 If you do not know who the heck The Temper Trap is already, maybe it is because you been living the past three years closed in a bunker. If this is the case go to your nearest film store, buy a copy of "500 Days of Summer" (Fox Searchlight Pictures, 2009), put your DVD/Blu-Ray reader on and push play. You probably would not be aware, but by the time you say to yourself that you want to challenge Joseph Gordon-Levitt and Zooey Deschanel to a karaoke contest (and yes, show them how to dress properly too) it would be too late, you already would be hypnotized and moving to The Temper Trap's Sweet Disposition.
On the back of four months of sold out shows across the globe, the Australian band announced recently a major European tour for this fall, concluding with a performance at London's HMV Hammersmith Apollo.
The band will unleash all the magic with its recently released self-titled second record and play its debut album as well, featuring the well-known singles Science of Fear, Fader, Love Lost and Sweet Disposition.
The Temper Trap, which is currently touring the US ahead of a run of summer festivals- including appearances in T in the Park, Wilderness and Truck Festival- and has been confirmed as the opening act for Coldplay's concerts in Australia, is set to release a new epic single, Trembling Hands, on 9 July via Infectious Music.
Tickets for the London concert are already on sale priced at £20 (subject to booking fee) and are available from Live Nation and Ticketmaster.
The Temper Trap's Autumn European Tour dates are:
September
Saturday 15 – Leffinge Leuren, Brussels.
Sunday 16 – Melkweg Max, Amsterdam.
Tuesday 18 – Offenbach, Capitol, Frankfurt.
Wednesday 19 – Tonhalle, Munich.
Thursday 20 – Komplex 457, Zürich.
Saturday 22 – Reeperbahn Festival, Hamburg.
Sunday 23 – VEGA, Copenhagen.
Monday 24 – Rockefeller, Oslo.
October
Tuesday 2 – The Academy, Dublin.
Thursday 4 – Hammersmith Apollo, London.