Nintendo and Universal Studios Japan have announced today that the much-awaited theme park inspired in Super Nintendo World will hold its grand opening to the public on February 4th, 2021.
After delaying the opening from this Summer to Spring 2021 due to the coronavirus pandemic, now it has been announced that fans can visit the park earlier than expected.
Super Nintendo World theme park includes attractions based on Nintendo's legendary universe and characters
The amusement park based in Osaka features a big variety of rides and attractions inspired on Nintendo's most popular games, all mixed with new technologies (wearable wristbands, VR headsets shaped as Mario's red cap…) to submerge attendants into an immersive experience.
One of the attractions is a Mario Kart: Koopa Challenge, an interactive race where you can challenge enemies with shells. This one will thrill adrenaline-seekers.
There is also a treasure hunt adventure led by Yoshi that will take fans on a journey to the Mount Beanpole.
Once there, they will have the chance to enjoy a breath-taking view of the Mushroom Kingdom.
Feeling brave to embark on a journey with Peach to recover the Golden Mushroom taken by Bowser Jr.?
The Power Up Band Key Challenges will test your gaming abilities through a series of interactive games that will lead you to an exciting final boss battle with Mushroom Kingdom's most devious trickster.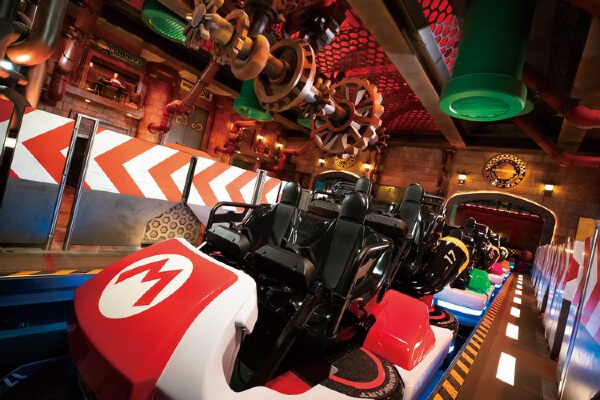 Super Nintendo World theme park also integrates shops, restaurants and other rides based on the video games franchise.
On October 16th, there was an early opening of the super colourful Mario Cafe & Store inside the park.
The Cafe, which is decorated with Toad-inspired tables and a wall design filled with Mario's famous green pipes and question mark blocks, offers fans the option to taste delicious Mario Bros-themed food and drinks like Princess Peach's Soda or Luigi's Cap Grape NoBake Cheescake.
The Mario shop sells all sorts of Nintendo-inspired merchandise: from t-shirts, caps, keychanes and socks to phone cases and cushions.
A Donkey Kong-themed area will open soon at Super Nintendo World
Other attractions will be unleashed in the future.
According to Bloomberg Quicktake (https://twitter.com/Quicktake/status/1333288722633089025), media outlet that had an early look about what we will find in Super Nintendo Wolrd park, there will also be a Donkey Kong-inspired area as well.
In that part of the park, there will be a minecart-themed Donkey Kong rollercoaster ride.
Below you can watch a promotional video about Super Nintendo World's upcoming grand opening released by Universal Studios Japan and Nintendo as well as some photos about what's inside the par and Mario Cafe & Store.