Rise Against will return to Spain next Summer as part of their "Nowhere Generation European Tour".
Rise Against will perform in Barcelona for the first time in 10 years
The hardcore punk quartet from Chicago has announced that it's coming back to Barcelona for the first time in a decade to play a intimate gig at Sala Razzmatazz 1 on June 29, 2022.
The band led by singer/guitarist Tim McIlrath will use this show to present its acclaimed last album "Nowhere Generation" to the Spanish fans.
The performance will feature some of the four-piece band's classics like Satellite, Give it all, Prayer of the Refugee or Savior, as well as some of the new songs such as Broken Dreams, The Numbers or the last album's title track.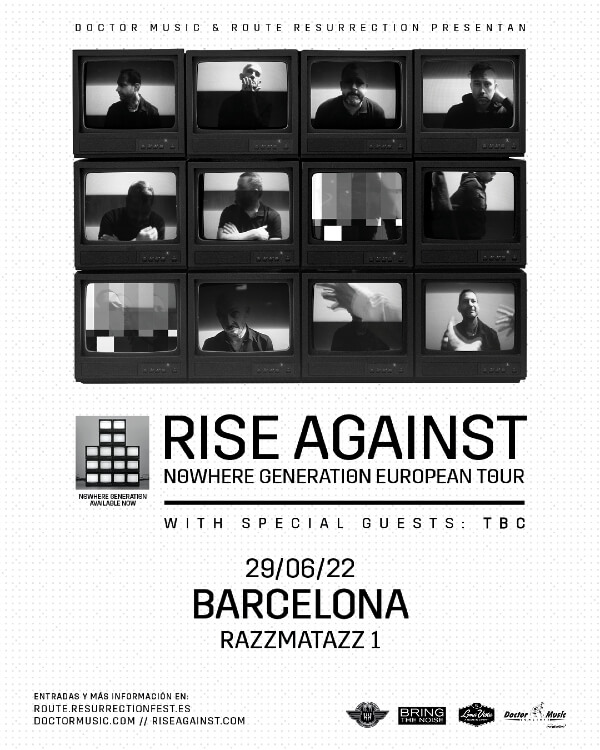 Rise Against's "Nowhere Generation": A collection of anthems about hopeless generation
"Nowhere Generation", Rise Against's ninth studio record and follow-up to 2017's "Wolves" (Virgin Records), was released last June via Loma Vista Recordings.
The album, which has been recorded at the Blasting Room and produced by the band's usual collaborators, Bill Stevenson and Jason Livermore, includes a collection of 11 aggressive punk rock anthems that talk about a generation that has lost hope.
The new record reached several top spots in multiple Billboard charts with its first-week sales and since its release, it has gained the recognition from both fans and specialized press outlets like Kerrang!, Revolver or Consequence.
The upcoming intimate show in Barcelona could be a great opportunity to discover Rise Against's new songs live and experience the band's all time hits at a whole new level.
Tickets to the event, which is being organized by Doctor Music and Route Resurrection, will be out on Friday 3, December at 12pm.
You can get your tickets via www.route.resurrectionfest.es and doctormusic.com.
Listen to Rise Against's Nowhere Generation below.